Everyday acts of courage and kindness
1. ETI DONATIONS HELP KARAGWE DURING COVID-19
ETI Supporters donated over $90,000 to help stem the impact of, and treat those afflicted by COVID-19 in Tanzania. Every dollar helped supply PPE, sanitizers, hand-washing stations and education for those in Karagwe. For example, your dollars helped fund 5,000 masks so that every person entering Nyakahanga Hospital has one. As we monitor events there, we also prioritize plans for Rural Opportunity Centers (ROCs) to help Karagwe's families earn more income, in the eventual – and much longed for – aftermath of the current pandemic. 
When the time is right: We will be ready.
---
2. PLANS FOR INCOME-GENERATING BUSINESSES CONTINUE
How will someone earn income in rural Karagwe post pandemic? They will do what they do best: Cultivate, harvest, process (and hopefully export) raw fruits, vegetables and nuts to provide food for themselves and others. Harvesting pineapple and then processing juice is the first priority as we plan the Rural Opportunity Centers (ROCs). As ETI adjusts for COVID-19, the ROC Task Force in Karagwe and BE Architects of New York continue planning ROCs in support of our important mission to help boost sustainable economic development in rural Tanzania.
When the time is right: We will be ready.
---
3. HELP OUT IF YOU CAN
These are strange times. We at ETI are aware of the plights of so many family and friends in the U.S. and globally. The tentacles of a life-threatening pandemic, furloughs, loss of income, separation and disruption. This is not what ETI had planned when we asked graphic artist, Kristina Johnson to create our NO GALA gala invitation months ago. Folks may not be in a gala mood, however, we still want to invite you – if you can – to help us continue to help the people of Karagwe. Help Karagwe protect themselves against COVID-19, and help ETI continue plans for solar power and Rural Opportunity Centers (ROCs): Hubs for education, health services and economic development.
Be part of the story.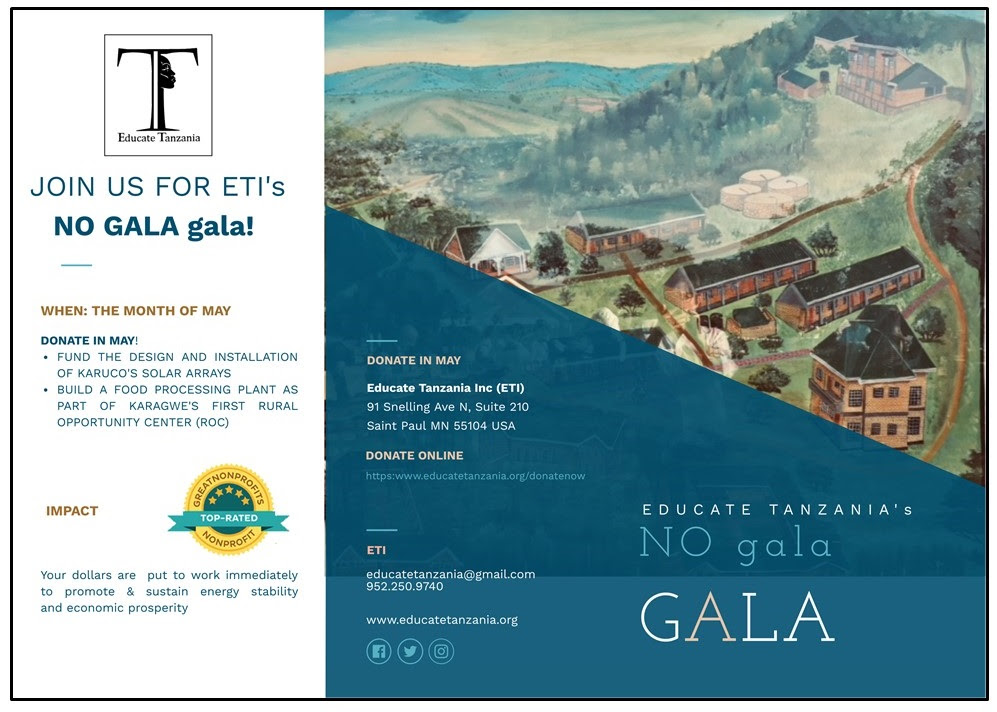 MAIL
Educate Tanzania,
91 Snelling Ave No, Suite 210
St Paul, MN 55104